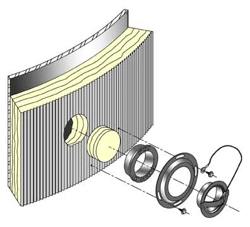 Specified NDT Inspection Ports (Plugs & Seals) for Nondestructive inspection, testing, and evaluation (NDE) under insulation.
Removable (reusable) inspection ports allow repeat access to inspect surface conditions for CUI (corrosion under insulation) on storage vessels, tanks, and pipelines in processing and refining operations.
The NDT Inspection Port consists of an elastomer sleeve and a metal cap, with or without a handle, lanyard, and locking ring. The elastomer Sleeve is available in either EPDM (ethylene propylene) or silicone. The Metal Cap is available in #5052 aluminum or #304 stainless steel.
Installed and in use in Bio, Chemical, Cold Storage, Pharma, Steam, Nuclear, LNG and Petrochem facilities and vessels nationwide.
NDT Inspection Ports (a.k.a. Plugs & Seals) do not require transition gaskets for corrugated applications and no special configurations for smaller diameter pipe applications.
Inspection Ports are designed for periodic (repeat) visual and electronic inspection access to insulated pipes, tanks and vessels.
Replaceable & resuable seals the access point with a metal (aluminum or stainless) cap inserted into an elastomer (or silicone) sleeve, creating a moisture-proof barrier.
Protects against corrosion under the insulation (CUI), plus chemical and UV exposure of the elastomer (EPDM) or silicone sleeve.
Diameters: 1.5″ | 2.5″ | 3.0″ | 5.0″ (38, 64, 76, 127 mm)
• Insulation inspection point access for Nondestructive access for EPA + OSHA inspection + tests
• Ports install on both smooth and corrugated insulated jacketing