Nondestructive Inspection Plugs for NDT inspection, testing, and evaluation (NDE).
Removable (reusable) NDT inspection plugs allow repeated access to inspect surface conditions for CUI (corrosion under insulation) on storage vessels, tanks, and pipelines in processing and refining operations.
The NDT Inspection Plug consists of an elastomer sleeve and a metal cap, with or without handle, lanyard and locking ring. The elastomer Sleeve is available in either EPDM (ethylene propylene) or silicone. The metal Cap is available in either #5052 aluminum or #304 stainless steel.
Bio, Chemical, Pharma, Steam, Co-Gen, Nuclear, LNG, Petrochem facilities rely on our plugs for inspection port access.
Specified, engineered to a higher standard.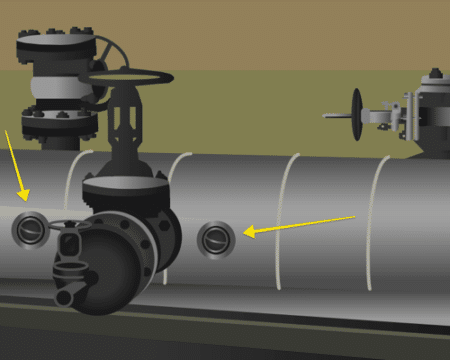 Installed NDT Inspection Plugs
NDT Inspection Access Point Labels are used to locate and identify TML (Thickness Measurement Location) & UT (Ultrasonic) access/testing points on insulated and non-insulated pipes.
TML Point Labels are constructed from a 3.5 mil matte silver mylar polyester material. 
1.0 mil UV laminate matte surface coating resists degradation from scuffing, chemicals, moisture, and temperature fluctuations.
Label adhesive is a high-performance acrylic for excellent bonding to metals, HSE plastics, and a variety of painted surfaces.