NDT Inspection Plug
+
Inspection Point Label Installation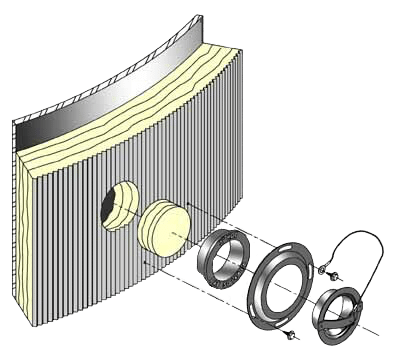 Inspection Plugs
Locate and mark the insulation jacket where the NDT test plug is required:
Use a

 

hole saw

 

to penetrate the insulation jacket, cutting a circumference equal to the size of the

 

NDT

 

Inspection Plug to be installed.
Remove the final layer of insulation, to expose the substrate for electronic and/or visual inspection.
After inspection, re-insert the insulation or replace with a high density material.
Insert the Sleeve.
Note: Caulking around sleeve for cold applications is recommended
Install the

 

NDT

 

Locking Ring and Lanyard.
Insert the

 

NDT

 

Plug Cap to create a seal.
TML / UT Labels
Be sure application surface is at room temperature or slightly higher:
Minimum application temperature for the adhesive is 58°F (15°C).

Clean and dry the application surface for maximum bond strength.

Surface should also be free of loose particulate, such as dust, dirt and corrosion.

Note: Acrylic adhesive requires 48-72 hours to achieve 90% of its ultimate bond strength.